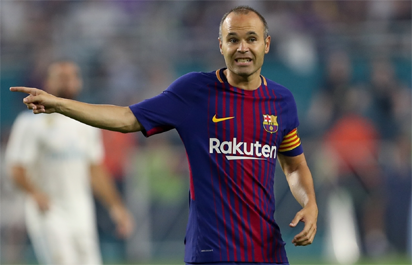 Barcelona tied down captain Andres Iniesta for the rest of his career as the club announced on Friday the 33-year-old midfielder has agreed the first "lifetime contract" in Barca's history. Iniesta's current contract was set to expire by the end of this season.
This is the first time that FC Barcelona has signed a lifelong contract with a footballer.
"Iniesta signed a lifetime contract with FC Barcelona on Friday, in a deal that will keep him at the club for the rest of his career," Barca said in a statement.
Alongside to five-time Ballon d'or winner Lionel Messi, Iniesta is Barca's most decorated and valuable player of all-time having won 30 trophies at club level, including eight La Liga and four Champions League titles.
Iniesta has also made the second highest number of appearances (639) in a Barca shirt behind Xavi(767) Hernandez since his debut 15 years ago.
Iniesta was born in the central Spanish region of Castilla-La Mancha before joining Barca at the age of 12, Iniesta is a beloved figure across Spain as he scored the winning goal in the 2010 World Cup final.
Iniesta said earlier this season that he wanted to retire with Barcelona, but "there were many factors" that had to be evaluated before considering his new deal with the club.