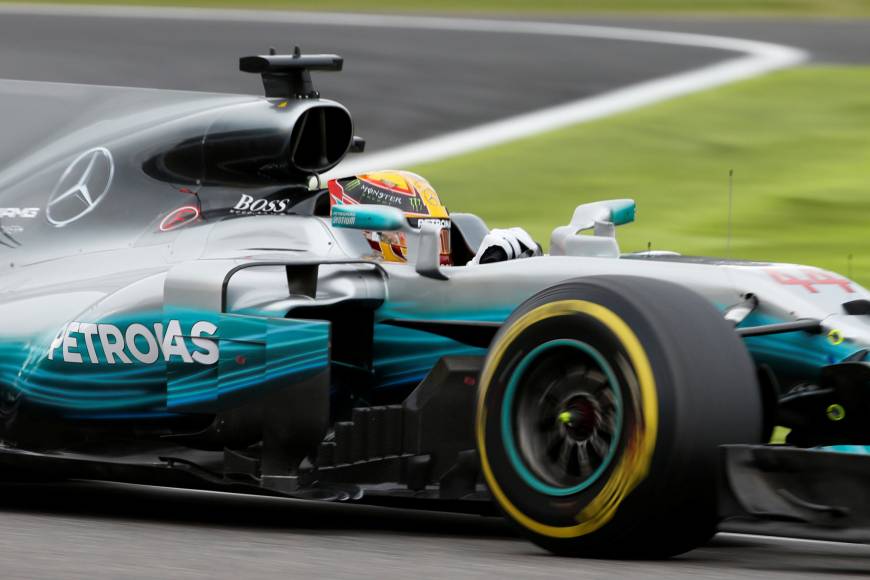 Lewis Hamilton struck a huge psychological blow in the Formula One title race Saturday with a sizzling qualifying drive to take pole position for the Japanese Grand Prix.
Hamilton shattered Michael Schumacher's lap record around Suzuka set during Q2 in 2006 by 1.365s to claim his 71st career pole and his first at the Japanese circuit.
The three-time world champion was by far the quickest driver on track in qualifying for Sunday's Japanese Grand Prix, repeatedly battering the lap record at Suzuka.
Hamilton, who claimed two previous poles in Japan when the race was held at Fuji said it was the first time in his F1 career that he felt truly confident in his car at Suzuka.
"The car is crazy here," said Hamilton after his 71st career pole, and first at Suzuka.
"This track has always been one of the greatest and with this car it's just mind-blowing," added Hamilton, looking to hit back after being stunned by Red Bull's Max Verstappen in Malaysia last weekend.
"With the downforce we now have it three seconds faster than before and it's just insane speeds that this car is throwing us around inside.
"It's incredible, my first pole position here — 10th time lucky or whatever it is."
His Mercedes team-mate Valtteri Bottas was second, but three-tenths down on Hamilton and will take a five-place grid penalty after taking a replacement gearbox.